My Job
Last school year, I made a personal goal to start blogging and to make sure I had a new post every month. I realize the importance of reflection, and I love to write, but I fell way short of my goal. Last week, the Monticello School District was fortunate enough to have Adam Welcome, co-author of Kids Deserve It and author of Run Like a Pirate, as our keynote speaker. We started talking about writing and blogging. I again said my goal this year would be to publish a blog once a month. His reply: "Once a month, Bro? No chance. You need to be blogging at least once a week if not more." So even though I fell short last school year, I'm making it my personal goal to hit publish at least once a week.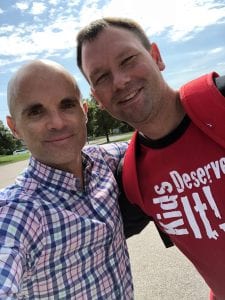 I've been thinking of writing about the positives of being a principal for a long time. But the idea didn't come from a positive place. At the end of last year, I was hearing the comment, 'I would never want your job' or some variation of those words. I really started to reflect on why anyone would say that. Is it because teachers sometimes need help in resolving conflict with parents? Is it the daily meetings before or after school? The long hours during some weeks? Maybe it's the way I interact with others when talking about what I do? Why do people concentrate on the negative aspects of this job when the positives far outweigh the tough days?
I recently read a blog post by Dr. Courtney Orzel who is a superintendent in Lemont, IL. Dr. Orzel wrote about accepting a superintendent position even though those around her and close to her told her not to. In her post, she writes eloquently about the perceived challenges versus the reality of the district and position she quickly grew to love. I'm not a superintendent and it is not a position I see myself in at this point in my career, but I can completely relate to the idea of 'I would never want your job.' The truth is the principalship is not always easy. There are days you feel isolated, days that you make wrong decisions that impact many staff members/families/students, days that are filled with long meetings, and days that you see the unbelieveable struggle in the lives of your students…
But none of that compares to the truly awesome aspects of what I get to do as the principal of Little Mountain Elementary. I get to have a direct impact on the academic, social, and emotional learning of 640 students in our care. I get to make daily positive phone calls home to parents of students and staff. *Note: if you're a principal and not making a #GoodNewsCalloftheDay for your students, you need to. It's the best part of my day.* I get to help students and families who are struggling. I get to work with the most amazing staff and learn from them on a daily basis. I get to read to classrooms full of students and introduce them to new books. I get to prepare our young learners for the next steps, and what could be more important.
So, as we start the school year, I'd like to begin to change this perception of what my job is. It starts with me and choosing my words carefully when I'm discussing meetings, during an encounter with an unhappy parent, or processing a difficult situation with a student. I believe it's also a call to action to encourage leadership within the building for our teachers and staff. Increased leadership roles for everyone involved can only increase the depth of our abilities to have a positive influence in the lives of our families. All while helping those around me understand we all have leadership abilities that shouldn't be passed up. Being a principal is proof of that!