o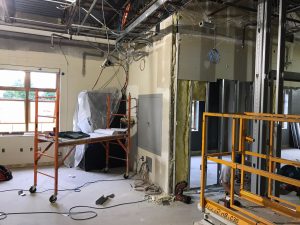 This summer our building is undergoing some extensive updating and remodeling. Windows, carpet, tile, furniture, and walls are being replaced throughout much of the building. The picture above is a recent view of my office, so I'm working out of the other elementary school in Monticello for the summer. However, I'm able to keep up on all the changes and progress during weekly construction meetings. As the demolition crews were working in each part of the building, I couldn't help but think about the students who have walked the halls of Little Mountain, and the students we will welcome back in September to walk our halls again. As we literally tear down walls at Little Mountain, it reminds me that we need to do the same with many of our students to help them learn.
A recent article in Newsweek explores how fear-based childhoods disrupt neurodevelopment. According to the article, "one in every four students currently sitting in American classrooms have experienced a traumatic event." Perhaps I'm becoming more sensitive to the issue the longer I work in education, but the need to provide emotional support to our students has never been greater. At Little Mountain, we are extremely fortunate to be supported with 2 full time social workers who provide our students with the social emotional skills and development needed to be successful. In truth, we could have 4 full time social workers and fill their caseloads with students who would benefit from social skills, grief support, family change groups, etc. And this is exactly why our teachers can no longer stand up in front of the classroom and 'just teach' anymore. Relationships are the backbone of the education system, and the key to helping students succeed academically.
My goal for the upcoming school year is to tear down walls our students have developed from physical, social, and mental harm. Each student that walks into Little Mountain deserves the opportunity to feel safe, learn, and have fun. In my first 4 years as the lead learner of Little Mountain, this has seemed like a daunting task at times. Reading, reflecting, and reaching out has made me realize we can create a culture where this is possible for all students. Kids Deserve It! from Adam Welcome and Todd Nesloney has completely changed my mindset for the better. Mentorship and guidance from Renegade Leadership's Brad Gustafson challenges me to improve each day. Encouragement and blogs from my #mnlead colleagues like @PrincipalFrench, @bretdom, and @millardamy2 are the support the keeps me motivated to change lives. My challenge to all of our teachers this year is to tear down walls. The results will last a lifetime!
Every Kid, Every Day!