I'm starting my 2018 reflections with my first One Word. I've followed several members of my PLN network who have embraced the idea of One Word as a focus and motivating mantra driving their everyday work over the course of a year. I'm hoping that by keeping this One Word at the center of what I do, how I think, and what I want for others, I'll see improvements in all areas of life.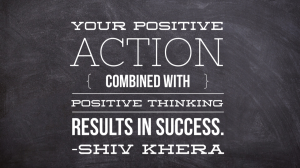 My 2018 One Word is POSITIVE. First and foremost, keeping this word as a constant focus is needed for my own mindset. I have a tendency to get run down and negative at the absolute wrong times. Keeping a POSITIVE mindset through all situations is what all those around me deserve. I've learned so much about staying POSITIVE in following inspirational leaders. The Kids Deserve It, Renegade Leadership, Be the One, Principals in Action, and MN Lead groups on Twitter and Voxer are game changers that keep me moving forward.
As I was contemplating my One Word for 2018, POSITIVE (in multiple meanings and uses) was the choice that kept coming through as the influence I want for those around me as well. In our PLCs, I want our teachers to be POSITIVE that every one of their students can learn at high levels. I hope all of our students come to school and leave with a POSITIVE feeling about their learning and friendships. All of our visitors to Little Mountain Elementary and Monticello Public Schools should leave with a POSITIVE impression about student learning. And finally, I wish for all of us working with students and families to choose POSITIVE in the upcoming year.
I'm looking forward to starting each day with POSITIVE as the main goal. I know I'll fail at times, but I also know I have a supportive and POSITIVE group of principals and teachers around me who will get me back on track. I'd encourage anyone considering resolutions or goals to keep it simple and focused by selecting One Word.